Bayern 5-1 Dortmund: formation switches, width and long balls expose Dortmund
Bayern Munich maintained their 100% record in the Bundesliga by thrashing second-placed Borussia Dortmund.
Pep Guardiola brought Jerome Boateng and Mario Gotze back into his side, although surprisingly Arturo Vidal remained on the bench. This seemed set to be a straightforward 4-2-3-1 system, although Guardiola had other ideas up his sleeve.
Thomas Tuchel, facing Bayern for the first time since succeeding Jurgen Klopp as coach, was only able to name Marco Reus as a substitute for fitness reasons, and also had defensive issues that he patched up rather unconvincingly.
Formations
Crucially, both coaches decided upon surprise formations from the outset. Guardiola elected to play a 3-3-1-3ish system, which featured Philipp Lahm moving forward to become a shuttler to the right, and Mario Gotze on the right wing, hugging the touchline on the opposite flank to Douglas Costa. Bayern needed width from these two, with no full-backs or wing-backs behind.
Tuchel, meanwhile, used a 4-3-1-2, which meant Henrikh Mkhitaryan playing as a second striker to the left, although floating around on the periphery of the game. Gonzalo Castro was surprisingly fielded in a a left-of-centre midfield role, while natural midfielder Sven Bender was in the centre of defence and centre-back Sokratis Papastathopoulos played at right-back, where he never looks entirely convincing.
The result of all this, though, was basically that the side cancelled each other out in midfield – it was effectively a diamond versus a diamond – and both had a spare man in defence. Bayern were 3 v 2 at the back, Dortmund 4 v 3. The unusual formations didn't create a significant overload in one area of the pitch.
Midfield pressing
This was a typically 'German' game of football, with both sides trying desperately to remain compact, preventing the opposition finding space between the lines. The defences pushed up dramatically and the two forward lines, particularly Dortmund's, dropped back to create a barrier when opposition defenders tried to play the ball into midfield.
Therefore, the game was extremely congested in midfield, and none of the eight players in that zone were prominent. The only exception was Thomas Muller, although his best moments came when he moved away from the midfield zone and into attacking positions.
Free players
Who, then, was getting time on the ball? Well, basically it was either a centre-back or deep-lying midfielder on either side. With the midfielders focusing on stopping each other, one of the Dortmund centre-backs was often free, although when Muller moved forward to press 2 v 2 with Robert Lewandowski, it meant space opened up for Julian Weigl, and he could have positioned himself better to find space, receive passes, and maybe even dribbled forward to attract another Bayern midfielder and allow one of his teammates freedom. None of this happened, and therefore the likes of Mkhitaryan and Shinji Kagawa were starved of service and marked tightly.
For Bayern it was roughly the same situation. Usually, Pierre-Emerick Aubameyang dropped onto David Alaba, and Dortmund were essentially 4-3-3-0 without the ball, leaving Javi Martinez free. He was incredibly ponderous in possession and scared to bring the ball forward, which was a sad but understandable sight given his lengthy injury problems – beforehand, he was one of the most dynamic defensive players around. He tried to attract Kagawa forward before playing the ball into Alonso, but this only happened a couple of times, and after the ball had spent far too long in defence.
Long balls
Therefore, with (a) everyone in midfield struggling to find room, (b) the defenders getting time on the ball, and (c) loads of space in behind the opposition, the solution was simple: don't play through midfield, but instead play long balls over the top.
The game's first key moment came on four minutes, from exactly this situation. Mats Hummels received a pass towards the left, and launched a huge straight ball downfield for Aubameyang, who started on the right but made lateral runs in behind the defence. Bayern were a little unprepared for this, and Alaba had to keep following him, almost sweeping in behind Jerome Boateng on the opposite side. In this incident, Alaba pulled back Aubameyang on the edge of the box, a 'last man' foul, although it wasn't a clear goalscoring opportunity – Aubameyang hadn't collected the ball and wasn't certain to reach it. Still, it was a desperate challenge and showed Bayern were vulnerable to this type of attack.
Guardiola switch
Bayern could have launched similar attacks, but Martinez, as mentioned, was simply being too slow with the ball. Therefore Guardiola made a very subtle but absolutely crucial change. He switched the positions of Martinez and Boateng.
This was the most Guardiola change you'll ever see. It was unconventional (you don't ever see centre-backs swapping positions midway through a game), it was subtle (many in the stadium wouldn't have even noticed) and it underlined the concept of universality (it was a change in defence – to improve the attack). It was also the game's key moment.
Boateng passes
Now Martinez was faced by Mkhitaryan, and Boateng was free in the centre. And, within 5 minutes, Bayern were ahead after Boateng exploited his new-found freedom and launched a pass downfield for Muller breaking in behind the defence (drifting into the space between Hummels and Lukasz Piszczek, who were looking at Lewandowski and Gotze respectively). Muller took the ball past Roman Burki and scored. It was Route One, but it was also attributable to Guardiola's change.
Boateng continued to hit these long balls from defence, sometimes in behind the opposition but also out to the wingers. In the first minute of the second half, Bayern essentially wrapped up the game, going 3-1 up, from an almost identical goal – Boateng's long pass found Lewandowski running in behind, and he scored.
It was reminiscent of Juventus' play under Antonio Conte – when Pirlo was being tightly marked, Leonardo Bonucci would play the Pirlo passes. Here, Boateng was playing the Alonso passes, and created more chances than anyone else in the game.
The contrast between Martinez's passes before the switch, and Boateng's afterwards, was huge.
Tuchel switches to 4-2-3-1
Before Bayern took command, though, there were formation changes which were crucial to the game's pattern. Tuchel decided to switch from 4-3-1-2 to the 4-2-3-1 most expected he'd start with – Castro moved to the right, with Aubameyang and Mkhitaryan both shifting a little left.
For a moment Dortmund seemed entirely disorganised, and went 2-0 down when Mkhitaryan fouled Thiago in the right-back zone (which made little sense considering he'd just gone to the left). It was difficult to tell whether Tuchel's change had any relevance to that concession, but it definitely had relevance to the goal Dortmund scored immediately afterwards. Castro was now on the right, and played a lovely cross from that flank in behind the Bayern defence for Aubemeyang, now a centre-forward, to turn in at the far post.
Guardiola follows suit
That suggested Tuchel wanted Dortmund to exploit the gaps on either side of Bayern's three-man (which, incidentally, is exactly how Dortmund opened the scoring against Bayern last year) and therefore Guardiola switched formation himself, moving to a 4-2-3-1 shape which basically involved Lahm moving to right-back and the defence shifting across, and Thiago sitting a little deeper.
The game now had a slightly different pattern, although because Guardiola responded to Tuchel's switch, we still had a spare man at both ends. That said, the midfields were now 3 v 3 rather than 4 v 4, and everyone had a little more space in the centre, especially as Dortmund's pressing dropped as the game continued.
Bayern extend their lead
Bayern ran away with the game in the second half. They used width very nicely, with Costa always going down the line dangerously, although the crossing was poor from both flanks – none of Costa's passes found a teammates. Gotze set up Lewandowski's second with his final cross of the game.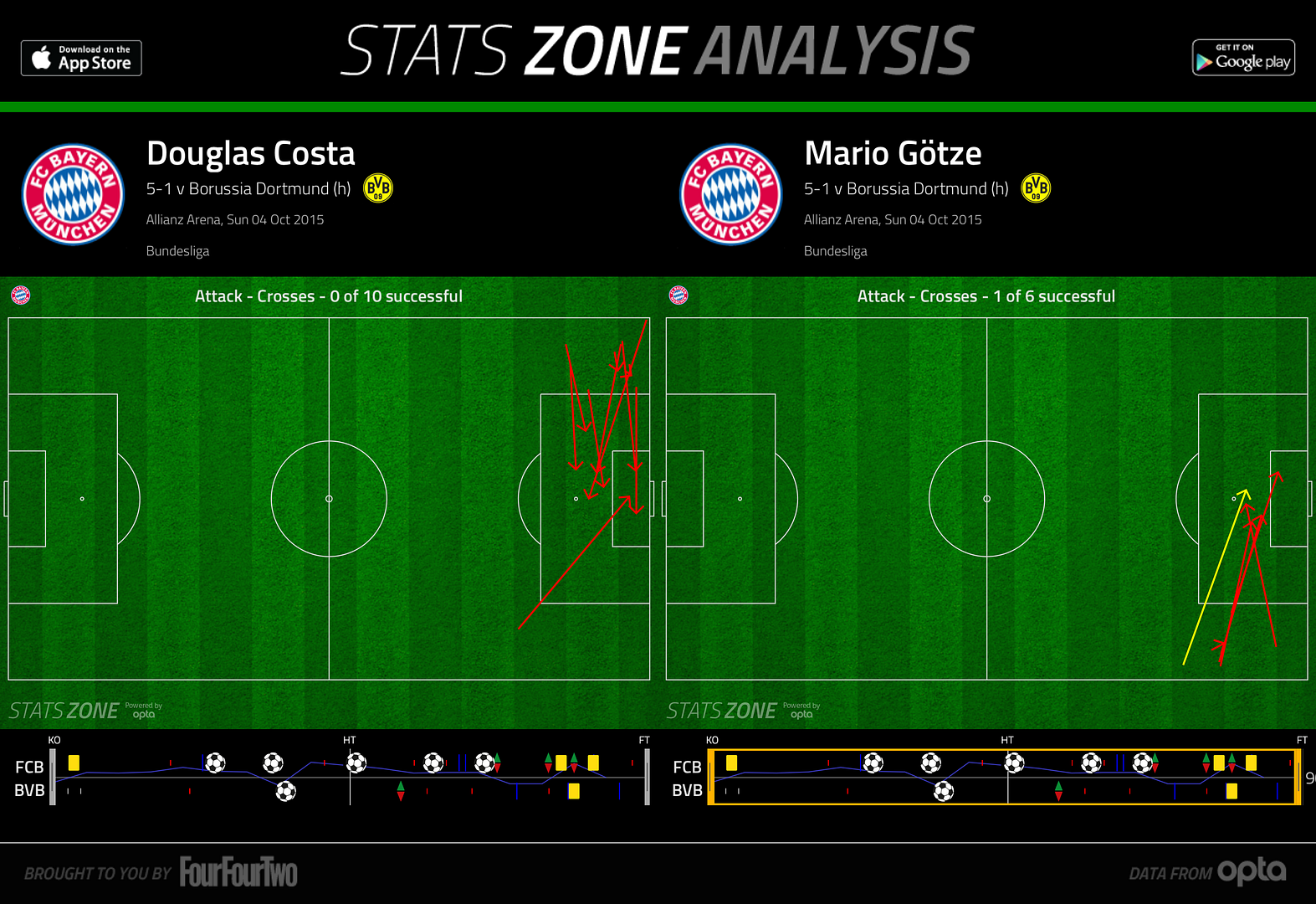 Reus was introduced and showed flashes of inspiration but clearly wasn't 100% fit, while Guardiola introduced Vidal for Thiago to increase Bayern's mobility in the centre of midfield, an option Tuchel simply didn't have. The second half was a little one-sided, and also suggested that a genuine Bundesliga title fight this season is unlikely.
Conclusion
The scoreline suggests Bayern battered Dortmund – and in the second half that was true – but this was a genuinely interesting gamein the first half. Surprise formations made the opening to the game interesting, and Dortmund's direct play in behind Bayern was causing Alaba problems against Aubameyang.
And it was a proper tactical battle, too – Guardiola's defensive switch was crucial in two Bayern goals, while Tuchel's formation switch got Dortmund back into the game, and meant Guardiola had to respond. Ultimately, though, Bayern were simply too strong.