Barcelona 2-1 Atletico Madrid: Busquets drops back to help Barcelona gain control
Atletico started strongly, but a tactical switch helped Barcelona exert their authority.
Luis Enrique named his expected line-up – essentially his strongest starting XI. Arda Turan was on the bench, for his first meeting against his former side.
Diego Simeone named Yannick Carrasco in a support striker role, close to Antoine Griezmann, while Jose Giminez was recalled alongside compatriot Diego Godin.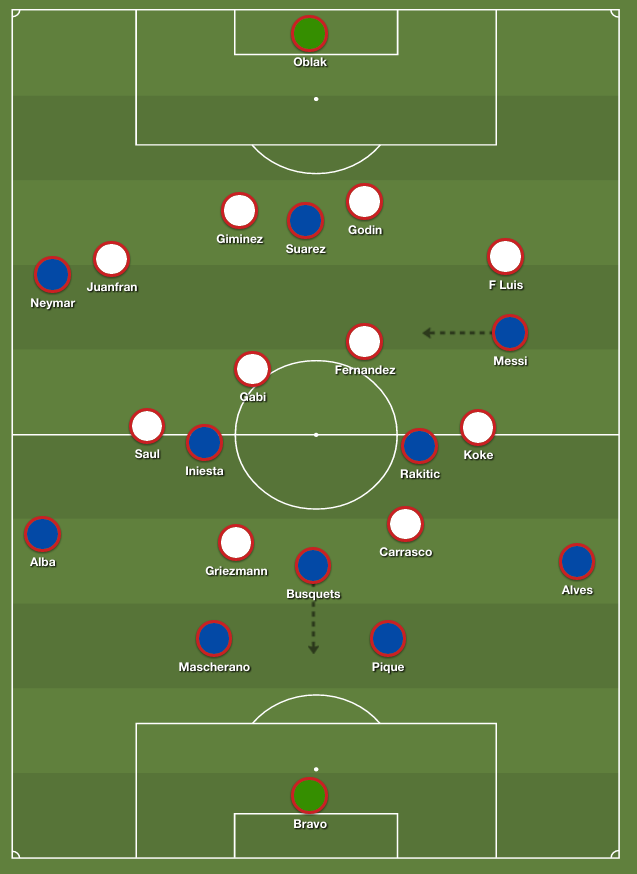 Atletico press
Atletico's approach without possession varies – sometimes Simeone orders his side to sit deep, sometimes they press much higher up the pitch. Here, from the outset it was obvious they were attempting to do the latter, with Carrasco and Griezmann pushing up tight to the Barcelona full-backs and making them nervous when attempting to play the ball forward. Barcelona had been absolutely atrocious at playing out from the back the previous weekend against Malaga – albeit with a much-changed backline – and Simeone may have seen that performance and attempted to force similar mistakes from the start.
In the early stages, this worked nicely. Barcelona continued to try and pass the ball forward, but the passes often went astray and Atletico regained possession inside the opposition half, enforcing a strong spell of pressure during the first 15 minutes – during which they took the lead through Koke.
Lateral pressing
A particularly noticeable part of Atletico's pressing was the degree to which they pressed laterally. They didn't simply push 'up' the pitch, they pushed 'inwards' too – so if Daniel Alves, for example, had possession, he would often find the six Atletico midfielders and forwards towards his side of the pitch, pressuring him, and in a position to press the players in close vicinity too. This is a common feature of Atletico's play under Simeone, but rarely has it been so noticeable.
It caused huge bunches of players towards one side of the pitch, with oceans of space on the opposite flank. Barcelona seemed to react to Atletico's gameplan here and replicate the approach, which might partly have caused the first goal – where Atletico dragged Barcelona's entire defence towards Barca's left-back zone, leaving Koke entirely free on the opposite side to pounce.
During this period, two particular passes from Barcelona were interesting. First, Leo Messi hit a huge crossfield pass to the opposite side of the pitch to Neymar, who could dribble at Juanfran. Later, Alves made a similar pass, albeit 50 yards deeper, to Jordi Alba. Whether through instruction or instinct, Barcelona understood that Atletico were compressing the space towards the flanks, but were leaving the opposite flank open – crossfield balls were the obvious way to find space.
Busquets drop back
That helped Barcelona work around the problem, but didn't entirely find a solution to the problem. The solution came after around 20 minutes, when Sergio Busquets dropped into a deeper position between the centre-backs, with Alves and Alba pushing forward to become wing-backs. Barcelona effectively switched from 4-3-3 to 3-4-3, and found it much easier to play out from the back. Rather than Gerard Pique and Javier Mascherano panicking when they were closed down by Carrasco and Griezmann, they played a simple triangle with Busquets, one of them could move forward and hit a good ball into midfield.
This, of course, isn't a new concept – the central midfielder dropping back to get out of the natural press of a 4-4-2 is fairly standard – and Busquets has done it plenty of times before. In fact, under Pep Guardiola he played as a permanent centre-back for the first time in a three-man defence away at an Atletico side playing 4-4-2. Arguably that's the difference between Guardiola and Luis Enrique – Guardiola is proactive with his tactics, Enrique waits to see what's happening before making changes.
Nevertheless, the amazing thing here was how effectively it worked. Busquets dropped back but none of the Atletico midfielders pushed forward to press 3 v 3, and instead Barcelona played their way out of trouble easily. Alves and Alba pushed on more, which forced back Koke and Saul into more defensive, wide positions – which didn't help Atletico's gameplan of clogging up the centre, and pressing towards the flanks when necessary. Of course, Atletico were never going to be capable of sustaining their high press for 90 minutes, but Barcelona took control at the same moment Busquets dropped in, so it's fair to assume this tactical tweak worked effectively.
Barca turnaround
Barcelona's equaliser was interesting. Partly because it arrived when Barca created a 2 v 1 on the left, with Neymar playing in Alba on the overlap, and his low cross was swept home by Messi. But it was more interesting for something that happened five seconds before that. Atletico stopped a Barcelona attack on the edge of their own box, the ball fell to Augusto Fernandez, and he simply hacked the ball clear. It went straight to Mascherano, whose first-time pass found Neymar. Two passes later, Barca had scored.
On one hand it's simply a bad clearance, but it's actually more significant than that. When Atletico won the title two years ago, one of the most interesting features of their play was the fact there was, essentially, no such thing as a mere clearance – only the start of a counter-attack. Here, Fernandez had space, could have played a relatively simple pass to either Carrasco or Griezmann, and Atletico could have been countering immediately. As the ball was smashed away, the two forwards turned to express their dissatisfaction with the clearance. Most players in Fernandez's situation would have done the same thing, but Atletico players cannot afford to – it undermines their gameplan.
Barcelona's second goal was simpler – a long ball from Alves in behind, with Suarez racing in behind to score. This showed Atletico's lack of pressure upon Alves, in stark contrast to their approach in the opening stages.
11 v 9
From there, Atletico self-destructed. A common theme of the first half was their extremely tough tackles on Barcelona's front three, and shortly before half-time Filipe Luis (literally) went over the top, fouling Messi high on the knee in a zone where he didn't even need to make a tackle, and was dismissed.
Atletico actually re-organised impressively after the break: Jesus Gamez replaced captain Gabi and filled the left-back slot, with Koke tucking inside and Carrasco moving out to a left-wing position. Atletico played 4-4-1 with roughly the same approach they'd started with, and caused real problems on the break, mainly through Carrasco's outstanding dribbling which turned defence into attack smoothly.
The numerical imbalance increased when Godin was dismissed for a foul on Suarez – again, in a completely avoidable situation. It was now 11 v 9, Atletico played something along the lines of a 4-3-1, but simply couldn't regain possession as Barcelona held onto the ball in wide positions and killed the game.
Conclusion
In terms of formations and style, this game was very familiar to previous meetings between these two – 4-3-3 v 4-4-2, possession v counter.
The major difference was Atletico pressing more intensely in the opposition half than we're accustomed to (especially away from home), and it caused the only major tactical change, with Busquets dropping into become an extra centre-back and enabling Barcelona to play out properly from deep. Busquets hasn't actually been in good form in recent weeks, with his distribution unusually sloppy. However, his versatility and positional sense allowed Barcelona to wrestle control of this match, and move three points ahead of Atleti, with a game in hand and a superior head-to-head record too.